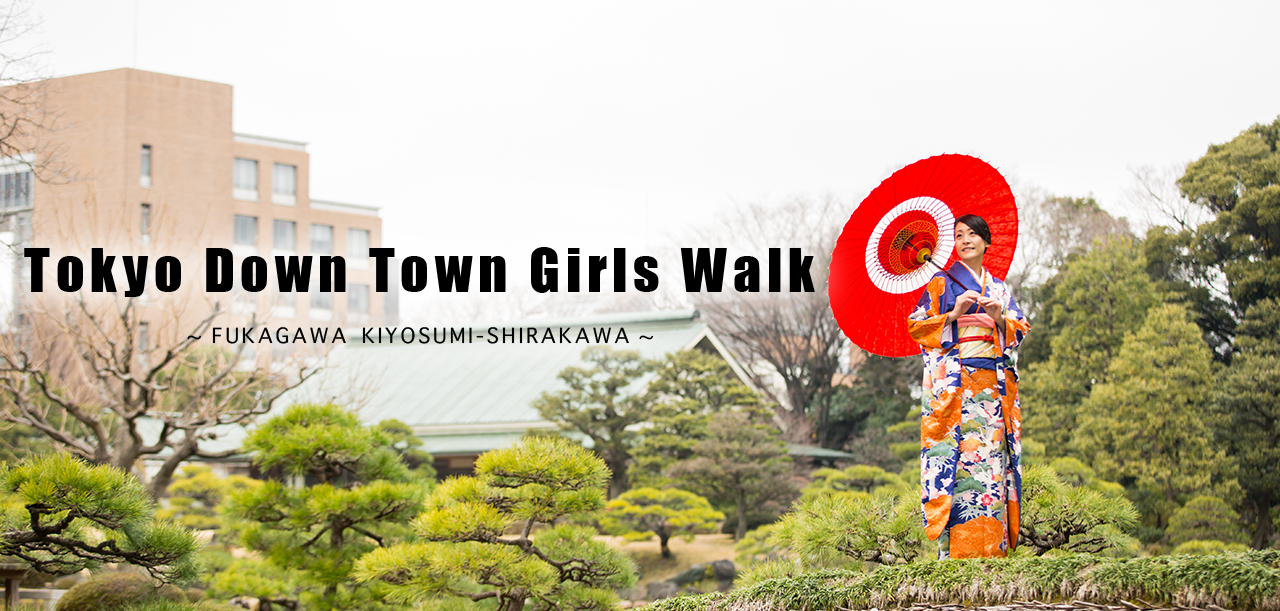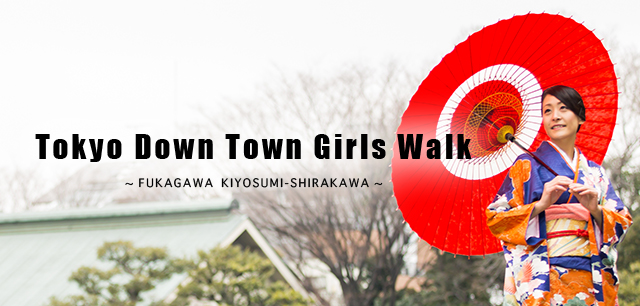 First,let's have a look at the guide map and learn about Fukagawa-Kiyosumi Shirakawa.
-Kiyosumi Shirakawa is a town located in Tokyo downtown, which is full of traditional shops, Temples and shrines with a long history. There are various touristspots around this area such as Kiyosumi Garden,Kiba Park,Museum of Contemporary Art Tokyo,Fukagawa Edo Museum… Beside priding on having one of the greatest art galleries in Tokyo,this area, recently, has witnessesd the opening a lot of cafe shops, in which there is " Blue Bottle" - the most loved coffee shop in Japan. For all of these reasons, this town has been call "Town of Coffee and Art". So, why don't we have a walk around Kiyosumi Shirakawa - a town blended with Downtown culture, Coffee and Art.
Tamaki kimono and Jewelry store. Fukagawa Kiyosumi-shirakawa Main store.
Let's start:
First od all, arriving at a kimono store opened since Taisho 13 (1924) and casually getting dressed in kimono or Yukata.
Since opening in Taisho 13 (1924), the store has been offering a variety of goods such as kimono, jewelry, …which are direct from famous makers right after production. For example, Furisode worn in The Coming Of Age Ceremony (Seijinshiki) is on sale for 158,000 yen ,rental for 39,800 yen. In addition, there are other goods at reasonable price like Yukata (from 2,980 yen~) , Festival Goods, Tenugui(238yen~),small goods(330yen~).All of these are certainly suitable for souvenirs of gifts. The owner is always willing to tell you anything about this downtown and kimono also.
For a stroll:
-Casual kimono Rental:4,000yen,Yukata Rental:3,000yen.Both dressing fee included. Tabi (Japanese split toed socks) fee excluded (780yen~). Tabi socks from about 110 yen also available. -Rental time:10:00~18:00(Fee are same at the time) -All are in price excluding tax. -Reservation system, Reservation on the day is OK.
Stroll Point:
-Just bring yourself and enjoy the sightseeing of this town in kimono, Yukata. -Don't worry about Dressing fee because it's FREE. -Take your time while strolling or choosing souvenirs.
location:〒135-0022 Tokyo, koto-ku,miyoshi 2-13-3

TEL:03-3641-5298

opening hours:10:00~19:00

regular holidays: No, Except New Year, Golden Week, Obon Holiday

access:
Hanzomon subway line Exit B2 1minute walk
Oedo subway line Exit A3 3minite walk
Sugihara Tofu store
Should not miss Fried Tofu and Soymilk!
This is an Old Tofu store with a history of 70 years, which opens from 5:00 am and always tries to put the flavor of home-made tofu first. Fried Tofu and Tofu Balls are superb. People also appreciate the tea offered by the owner. Additionally, soymilk, which has a rich taste, is a must-try drink if you drop in the store.
Stroll Point:
-Not only can you drink soymilk, but you can also buy Tofu, tea leaves or Fried Tofu as gifts.
location:〒135-0021 Tokyo, koto-ku, shirakawa 2-3-14

TEL:03-3641-1904

opening hours: weekday 5:00~18:30 ,Saturday:7:00~18:30

regular holidays: Sunday, National Holidays.
Zentoku Temple
Goods place to enjoy New Year's scene of Kiba and Weeping Plum Trees.
Stroll Point:
should nor miss the New Year's scene of Kiba and weeping plum trees that bloom in early spring.
location:〒135-0022 Tokyo, koto-ku, Miyoshi 1-8-6
tel:03-3641-6305
opening hours:10:00~19:00
No day off
Takahashi Edo Miyage Store
Fukagawa rice ingredients and candy store.
Traditional toys, Ingredients of Fukagawa rice and other food boiled in sweetend soy sauce are put in stock. This store is known for selling goods made and decorated with great consideration. It is also loved by almost children in the neighborhood for its variety of candies.
Fukagawa Shopping Street Along The Fukagawa Edo Museum
A shopping street full of not only stores in whish you can feel downtown people's warm heart but also offer modern ones.

There are about 100 stores lining along 900M of this street , which starts from Kiyosumi Street, Koto-ku Miyoshi.shirakawa 1 chome to 4 chome, where the Art Gallery is located. This is called Shopping Street Along the Fukagawa Edo Museum. It is surrounded with a number of old Temples and Shrines,Historic Sites and always full of people's warm heart. It is located on the place that connects kiyosumi street and Mitsume street, which only take 1 minute walk from Kiyosumi Shirakawa Station. In the neighborhood there are Kiyosumi Garden,Kiba Park, Museum of Contemporary Art Tokyo and of course Fukagawa Edo Museum from with this street's name stems. Stroll Point: Please take your time enjoying this shopping street, which is blended with both old traditional stores and modern ones. Zentoku Temple is opened in Yotsuya Nincho in Kanei 6 (1629), them moved to Fukagawa in Kanbun 4 (1664). This temple is dedicated to the Kannon Statue to memorize the people who had died in the war. Inside the temple there are lots of weeping plum trees. From year End till January, people reproduce New Year's Scene of Kiba here.
Stroll Point:
Should not miss the New Year' Scene of Kiba and weeping plum trees that bloom in early spring.
location:〒135-0022 Tokyo, koto-ku, Miyoshi 2-16-7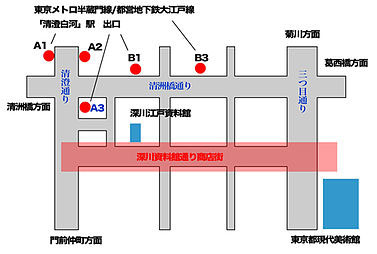 Kiyosumi Garden
The representation of Japanese sprit in Tokyo
Kiyosumi Garden is the Garden of trees and pond, which is suitable for an excursion. A part of this can tell the wealthiness of a merchant named Kinokuniya Bunzaemon havng lived in Edo Period. In Meiji 11 (1878), it was planned to be developed by Iwasaki Yataro, there in Meiji 13 (1880 ) the construction completed. It was called Fukagawa Gathering Garden at that time. After that in Showa 54, March 31, it is designated as Tokyo scenic spot. Taisho Memorial Hall built inside the garden, together with the pavilion built on the pond can be used (fee required) You can bring along food to feed the fish, turtles living in the garden.
Stroll Point:
This is a Garden of Japanese spirit which can provide you with not only comfort, soothing but also a place to enjoy with your children o your friends.
location:〒135-0024 Tokyo, koto-ku, Kiyosumi 3-3-9

TEL:03-3641-5892

opening hours: 9:00~17:00 (Admission till 16:30 )

Holiday: Year End, Year Opening (December 29 ~ the next year January 1 )

Admission fee : general 150 yen, Above 65 years old:70 yen, Under primary school students, students of secondary schools in this area :Free.
Fukagawa Kamasho
Great place to enjoy local delicacies-Fukagawa Rice or Fukagawa Bowl
The store offer lots of delicious food, one of whish is fukagawa rice with the flavor of essence of downtown. Fukagawa is the area where most of downtown residents are living. How about having a bowls of Fukagawa Rice while strolling around this area,which is certainly served with full of Japanese littleneck. On weekend, there is always a long line of people waiting outside the store.
Fukagawa rice 1050 yen Fukagawa bowl 1260 yen
location:〒135-0021 Tokyo, koto-ku, Shirakawa 2-1-13

TEL:03-3643-4053

opening hours: Mon-Tue-Thu 11:00~15:00
Wed-Fri-Sun-National Holiday:11:00~20:00

Holiday: The second Monday,the forth Monday of the month
Yama Diner
Home cool diner, retro atmosphere of Showa Period
Offering healthy food made from nutritious ingredients is the specialty of the Diner. Inside the store a lot of retro furniture and tools are decorated. Take your time and enjoy the food here.
Stroll Point:
This is not only a retro place to relax but also a modern one that worth a drop by.
location:〒135-0022 Tokyo, koto-ku, Miyoshi 2-11-6 Sakura Building 1A

TEL:03-6240-3953

opening hours: 17:30~21:00

Holidays: Not fixed
Fukagawa Edo Museum
An experience of life in Fukagawa of Edo Period
Fukagawa Edo Museum is an exhibition of life in the last years of Edo Period (1842~1843). You can get in the house and touch all the tools. Besides, the museum also exhibits the scene throughout four seasons, from dawn till dusk, even the sound of rain or vendors' voices can be heard.
Stroll Point:
You can certainly feel the life in one day of residents of this area in Edo Period.
location:〒135-0021 Tokyo, koto-ku, Shirakawa 1-3-28

TEL:03-3630-8625

opening hours: 9:30~17:00 (Admission till 16:30 )

Holidays: The second and the forth Monday of each month Year End Year Opening contemporary closed (for maintenance).

Secondary School Students are required to be companied with guardian.
Reigan Temple
One of 18 Buddist centers for study and meditation in Kanto
The temple was built in 1624 by a monk named Reigan Shonin . It was originally located in sumidagawa but was moved to this area after a big fire occurred in 1657. Matsudaira Sadanobu was buried here, who came from Shirakawahan. Therefore this place in nemed Shirakawa. Cherry Blossom is especially beautiful here in spring.
Stroll Point:
A temple that lies the tomb of Matsudaira Sadanobu, Edo Culture and Fukagawa Culture.
location:〒135-0021 Tokyo, koto-ku, Shirakawa 1-3-32
Todo Planning Direct Sale Factory
A cake factory providing whole cakes, a store offering pieces of cake for tasting.
This is a factory that provides cake for restaurants or hotels. Tasting small cut of cake for free is also available. It is sometimes featured on media. Chef of the place is said to have studied at German National Confectionery School, then worked at a famous restaurant in Ginza for 18 years.
location:〒135-0021 Tokyo, koto-ku, Shirakawa 2-5-2

TEL:03-5620-1348

opening hours: 10:00~19:00

Holiday: No
Rinsenji
Stroll Point:
Although it is located on a small street around the corner of Fukagawa, this is a temple having a close connections with Matsuo Basho.
location:〒135-0024 Tokyo, koto-ku, Kiyosumi 3-4-6

TEL:03-3641-1968
The Museum of Contemporary Art Tokyo
An Art Gallery opened to connect "Contemporary" and "art". It was established with an aim of introducing Contemporary Art , and fulfilling the plan with a cosmopolitan outlook. This Museum is a place to hold lots of exhibitions of all fields such as sculptures, fashion, architecture , design, etc. The exhibitions range from permanent exhibitions to international scale ones. The floor space of the museum is 33.515㎡, Which makes this the largest Art Gallery of Japan. (the second largest if the rest area is added to calculation )
Stroll Point:
Great place to experience various genres of "Contemporary Art".
location:〒135-0022 Tokyo, koto-ku, Miyoshi 4-1-1

TEL:03-5245-4111(Representative)

opening hours:10:00~18:00(Admission allowed till 17:30)

holiday: Monday (in case of national holiday, being closed on the next day),Year End, New Year, Maintenance

permanent: Exhibition Admission Fee:
general:500yen ,University,college,student:400yen ,High school student:250yen
Kiba Park
A harmony of water and green trees, loved by both adults and children.
Kiba was prospered in Edo and Showa Period as "Town of Timber" to provide wood. When all the woodmen moved to the present Shinkiba Park , Kiba Park was maintained as just a park of water and green trees. In Showa 52, it was designated by the government as a park to celebrate the fiftieth year of the Emperor' reign. It is fulfilled with facilities such as Barbecue Square, Tennis Court,… Every year in October, a festival is hold by Koto District Resident.
Stroll Point:
A perk suitable for enjoying the four- season nature, leisuring and playing sports.
location: Tokyo, koto-ku, Kiba 4 &5 chome , Hirano 4 chome , Miyoshi 4chome ,Toyo 6 chome.

TEL:03-5245-1770

opening hours:10:00~18:00(Admission allowed till 17:30)

holiday: Monday (in case of national holiday, being closed on the next day),Year End, New Year, Maintenance

permanent: Exhibition Admission Fee: