GREETING
ご挨拶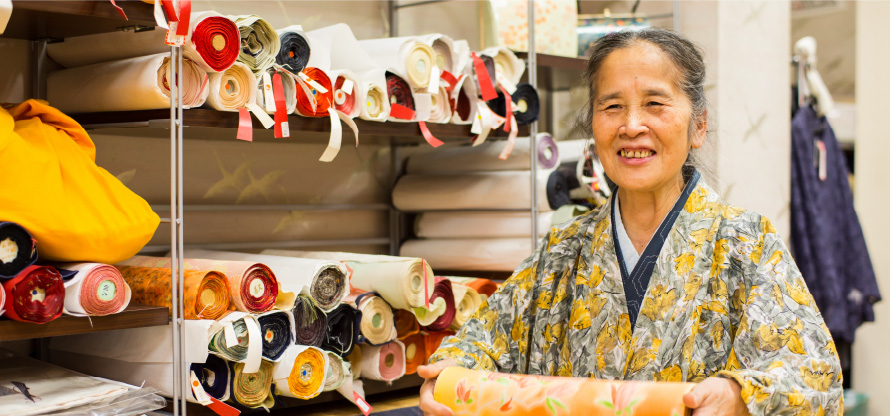 Kimono is Culture.
Kimono is Culture.
When I started working at this Japanese Traditional store, our parents had been wearing kimono as daily casual clothes. At that time, most of our mothers made our own kimonos by hand from scratch.
They seemed to put a lot of thought into making the kimono from the step of cutting cloth until it is completely made and dressed.
I started working here without knowing anything ,but I was taught a lot by the customers. 40 years has passed since then and the number of people who know that much about kimono has gradually declined recently. At present, these are fewer and fewer people having knowleage of celebration clothing of children or even the koshiage of Yukata. Just by adjusting he length of shoulder part (kata-age) or the waist part (koshi-age) of the kimono, a child can wear his/her kimono for at least 3-4 years.
Moreover, if you told the kimono carefully, it will not get wrinkles easily or be bulky anymore. Therefore, it becomes more convenient to be carried when you travel throughout or outside the country.
Another distinctive of kimono is the fast that regardless of your baby size, whether you are chubby or skinny, tall or short, you can certainly fit in a kimono of your own size. Even a pregnant woman can wear kimono.
It is known that your body size's changing means you can no longer wear your old western clothes. However, when it comes to kimono, the situation is different. Recently, there are more and more foreign customers coming to our store. I have a feeling that when they come to japan they want to see more of the kimono figure, don't they.
When it comes to Japan, people remind of kimono. This is to say that kimono is not only history but also culture of Japan.
I really hope the knowledge of kimono will remain for long and Japanese will become aware of those merits of kimono,
Till now, the figure of a bride I remember most is that of a wearing Furisode passed down from her to grandmother. A kimono passed down from grandmother to mother, from mother to daughter and then from daughter to her child, certainly has its own spiritual value, isn't it?
TAKAKO TAMAKI
Tamaki Store History
| | |
| --- | --- |
| 03/1918 | The first generation – Mr. Kenshichiro Tamaki Graduates from Meiji Primary School |
| 04/1918 | He starts working at Mitsukoshi Kimono Store (Now Mitsukoshi Main Store) |
| 09/1923 | Great Kanto Earthquake |
| 1923 | After the Earthquake, he works at Nagasawa Kimono Store located in Nagaoka-shi, Niigata Prefecture |
| 1924 | "Tamaki Store" is founded |
| 07/1932 | "Kiyosumi Garden" is opened |
| 12/1941 | The Pacific War Outbreaks |
| 1945 | Tokyo Air Raid causes the store to burn out |
| 08/1945 | The Pacific War Ends |
| 1947 | New Store is reopened. Now it is Fukagawa Kiyosumi Shirakawa Main Store |
| 1948 | After the war, the first "Tomioka Hachiman Shrine Festival" is held |
| 1948 | The group of Shopping street store owners starts functioning |
| 1950 | Tamaki Joint-Stock Corporation is established, Store's name is changed into "Tamaki Kimono Store" |
| 1959 | Store is extended for the first time |
| 1960 | Festival Goods start to be put in store |
| 1961 | "The Association of Shopping street along the Koto District Ward Office" is founded |
| 1964 | Store is extended for the second time |
| 1973 | Koto District Ward Office is moved to Toyo-cho |
| 1974 | Shopping street's name is changed into The operative of shopping Street Along the Koto District Ward Office |
| 1974 | Sawmill, Timber starts to be moved from Kiba to Shinkiba |
| 1975 | Jewelry, Fur Goods start to be put in store/td> |
| 1981 | Sawmill, Timber's moving is finished |
| 10/1981 | Sunamachi Ginza Store is opened |
| 10/1986 | "Fukagawa Edo Museum" located on the premises of Koto District Word Office is opened |
| 1987 | Shopping Street's name is changed into "shopping Street Along the Fukagawa Edo Museum" |
| 10/1987 | Kiba park is opened |
| 03/1995 | The Museum of Contemporary Art Tokyo is opened |
| 1997 | "Tomioka Hachiman Shrine Festival" Two Mikoshi are carried |
| 09/1998 | Scarecrow Contest starts to be held along the shopping street |
| 12/2000 | Toei Oedo Subway Line started running through "Kiyosumi Shirakawa Station" |
| 04/2001 | Art Event "Anyone can be artist" starts to be held |
| 03/2003 | Hanzomon Subway Line starts running |
| 04/2007 | "Sunamachi Ginza Store" is extended |
| 03/2011 | "Tomioka Hachiman Shrine Festival" is extended become of the effect of East Japan Great Earthquake |
| 09/2011 | "Fukagawa Main Store" is extended ( the third time ) |
| 08/2012 | "Tomioka Hachiman Shrine Festival" is held with the attendance of the Emperor and Her Majesty |
| 08/2014 | "Tomioka Hachiman Shrine Festival" is held |
| 11/2014 | Student Goods used in "Fukagawa Dairoku secondary school" are put in store |
| 01/2015 | Store name "Fukagawa Main Store" is changed into "Fukagawa Kiyosumi Shirakawa Main Store" |
| 08/2015 | Two Mikoshi is carried in the "Tomioka Hashiman Shrine Festival" |